Develop fluency identifying the missing part in two-part bonds of 5.
Develop the concept of using part-part-whole representation.
addition as "and"
equals as "is", "is equal to"
horizontally, vertically, diagonally
Place blocks on the game board
This activity is more difficult than the previous activities in the Bonds of 5 Chapter because it is diagrammatic representation. Support students experiencing difficulty by placing blocks on the Part-Part-Whole frame.
For example, spinning 3.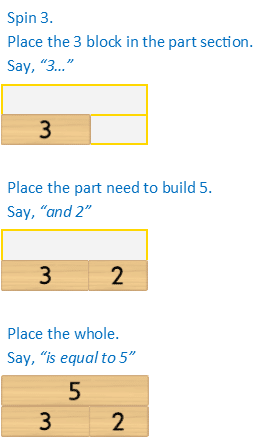 When using the Part-Part-Whole frame it is important to be clear that the whole on the top row is worth the same as the parts joined underneath. This is NOT a diagram of 5+5=10

Increase fluency with these bonds by using a variety of representations. Go to
Activity 9
Bonds of 5: Fluency, Racing Cars