Bond Blocks 2023 Edition Changes and Additions
Our original goal with the 2023 update to the Bond Blocks Core Kit was to provide a simple 16-page update booklet with Australian Curriculum version 9 information and some basic planning assistance.
In talking to teachers however, we found many wanted a lot more guidance, and even that was split by need for Tier 1 Prevention uses or Tier 2/3 Intervention use.
So, we apologise for the wait, but we hope the over 100 pages of new content makes up for it!
We are providing all the digital content changes in the 2023 edition – including the new support materials – for free to previous owners of Bond Blocks. People who bought Bond Blocks 2023 Edition before now have their printed 2023 books and USB with digital materials (PL, books, video backups) coming to them in the mail but eager ones might want to grab the downloads below and get into it.
What is new?
We have new Implementation Books for both Version 8 and Version 9 of the curriculum and Tier 1 and Tier 2/3 use cases, week-to-week planners, updated monitoring tools and Assessment helper videos. Whether you are using Bond Blocks for Prevention or Intervention, you're covered.

A 2023 Edition Kit contains the new Core Kit Activity Boards box in its vibrant yellow, now with 10 plastic sleeves with the game chapters inside for easier classroom use. Additionally in 2023 the Bond Blocks PL now included comes with the Core Kit. Finally, some games were changed, details in the section at the bottom of the page.
You can click on each image below to take a look at some of the many changes.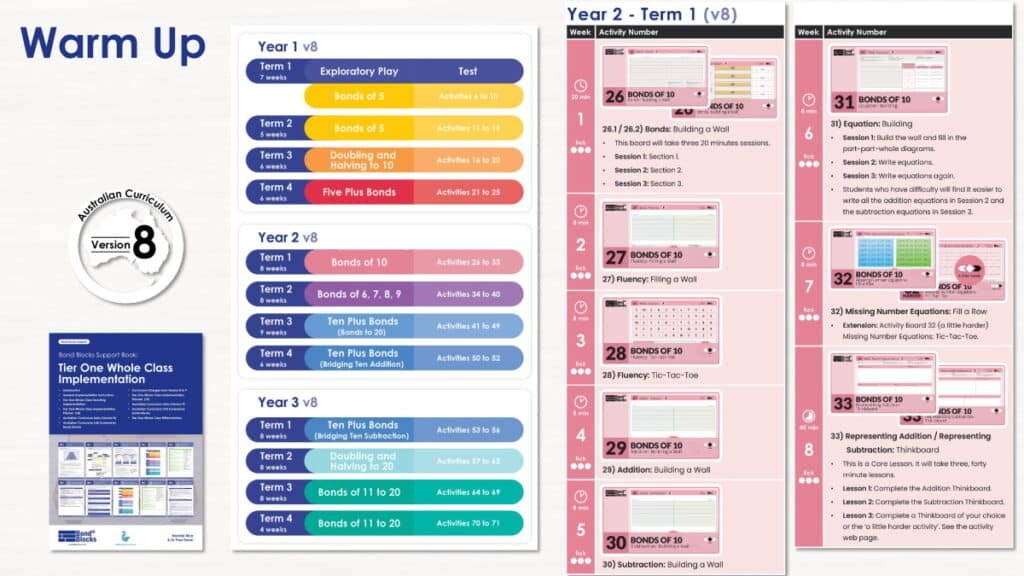 For Kits purchased from Drpaulswan.com.au:

2023 Books and Assessment Tools:
For Kits purchased from MAWA:
Books and Assessment Tools:
2022 Kits purchased from Abacus Educational:
2023 Kits purchased from Abacus Educational:

Your USB and printed books were mailed.
Bond Blocks 2023 Edition Unboxing
Materials Pack: Write 'n' Wipe Sleeves (A3) x5
1 of 9
Winner of the 2022 Educational Publishing Australia Award
2 of 9
Bond Blocks Activity Boards Box (Includes 108 Boards)
3 of 9
Support Books (Implementation Tier 1, Tier 2/3, Monitoring, Asessment, Differentiation, Answers, Teacher Notes)
4 of 9
Four sets of Wooden Bond Blocks
5 of 9
Materials Pack (Spinners, Counters, Beadstrings)
6 of 9
Bond Blocks USB (Includes Teaching Excel and Powerpoint documents and Bond Blocks Video PL Course)
7 of 9
Bond Blocks Activity Boards (108) – Each set of games is in a plastic wallet for ease of use.
8 of 9
Personal Licence Included – The licenced teacher can photocopy their original set of boards for the students they teach.
A Classroom teacher can copy for their own class or a Maths Intervention teacher for all their intervention students.
9 of 9
Subscribe to our YouTube Channel
Subscribe to our YouTube Channel
(4:23)
What you want to order for different contexts
Over 100 pages of new content, the videos above explain the use of each book.
Other Books:
Tier 1 Whole Class Implementation Book
Tier 2/3 Intervention Implementation Book
Teacher Notes Book
Answers Book
Differentation Book
Monitoring Book
[Importance: High] Boards 15, 40 and 68 have been changed. This has fixed some important issues on these boards and it is recommended you re-print them from the new version below.
[Importance: Moderate] Board 13 has been changed. It is now split into 3 new activity boards for ease of use and simpler presentation. Narelle will also create the activity videos for these new boards very soon.
[Importance: Low] The dark blue chapter has been split down the middle as an organisational help to delineate the chapter a little bit. In 2023 the back half is slightly darker blue than the first half and in a separate wallet.